Microneedling: What You Need to Know.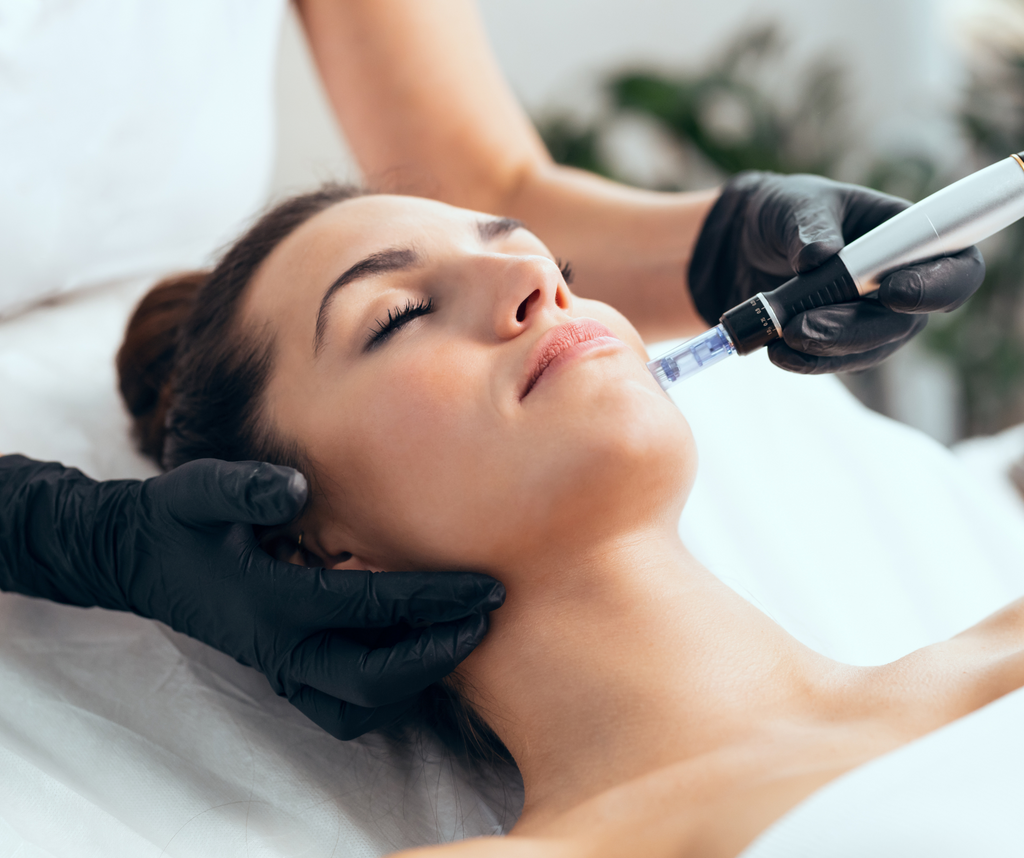 Tip from our Collective: Microneedling is often paired with Chemical Collagen Stimulator (PRX) for longer-lasting and more noticeable results. Ask your esthetician for a custom treatment plan.
WHAT IS MICRONEEDLING?
Microneedling is a minimally-invasive facial treatment that boosts collagen production by stimulating the skin's natural wound-healing process. You may have also heard of it as Collagen Induction Therapy.
WHAT DOES IT TREAT?
Microneedling is an extremely popular and widely-used approach for treating acne scarring, enlarged pores, hyperpigmentation, fine lines, uneven texture, and other skin concerns. We also love this treatment for preventing future skin concerns, as it helps maintain even skin tone and tightness.
HOW DOES MICRONEEDLING WORK?
During microneedling, tiny needles are used to puncture the skin (but don't worry, these tiny wounds are not visible). By doing this, product is more effectively absorbed beneath the skin's surface to help brighten pigmentation, boost tone and texture, break down scar tissue and encourage cell turnover. The microneedling procedure stimulates a controlled healing response and helps skin cells heal more evenly. 
HOW DO I PREPARE FOR MY APPOINTMENT?
Preparing for a microneedling session is relatively simple compared to many other facial treatments! We always recommend booking a free consultation with a collective esthetician to develop a customized treatment plan and go over any questions you may have. Here is a list of general guidelines prior to your appointment: 
Day-of appointment:  Arrive with a cleansed, makeup-free face.
24 hours before: Minimize any direct sun exposure, as this could cause extra irritation after your appointment.
1 month prior: Discontinue any use of retinoids and acne medication
1 year prior: No Isotretinoin should be taken. This is a prescription that is used to treat severe acne. 
WHAT CAN I EXPECT AT A TREATMENT?
A numbing cream will be applied at beginning of service to reduce any possible discomfort. During the process, you can expect to feel a slight pressure and prickle on areas where skin is thinner, such as the forehead or jawline. Post treatment, you may feel like you have a touch of sun burn, as skin tends to feel tight and warm for about 12 hours post treatment. Any redness should clear up within 24 hours depending on depth of treatment.  Only use mild products at home for at least 5 days after each session of micro needling. No product is recommended for the first 12 - 24 hours. 
CAN I COMBINE MICRONEEDLING WITH OTHER TREATMENTS?
Chemical Collagen Stimulator (PRX) can be layered in when microneedling. These services are often booked together to progress and prolong results of your treatment.
CAN I GET MICRONEEDLING IF I HAVE BOTOX?
Yes, you CAN receive microneedling after Botox once you allow the Botox to settle for at least 14 days. We have members who choose to alternate between these treatments to reach their skin goals.
I'M READY TO GET STARTED. HOW DO I BOOK A SESSION?
Book your microneedling session here
under our Preventative Aesthetics menu. If you would like to chat about your treatment plan first,
book a free consult here.